Services
LSAT: REVEALING THE LANGUAGE OF DECEPTION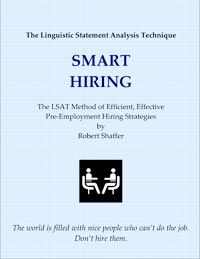 TRAINING TAILORED TO ALL CRIMINAL AND PRIVATE INVESTIGATORS
Linguistic Statement Analysis Technique provides training and investigative services that enhance criminal and private investigations, maximize success and minimize errors in pre-employment applicant screening, and add a new dimension to the collection of and examination of legal depositions.
These are just small descriptions of services, please click on the link to read more about each individual service.
Learn LSAT
LSAT offers Investigative Statement Analysis training in on-site classroom settings and in our pre-recorded, on-line webinar format. Bothare the same high-quality training content offered in two formats to accommodate your needs.
LEARNING AND PRACTICE RESOURCES
LSAT students have the unique opportunity to continue their learning experience after attending LSAT training classes.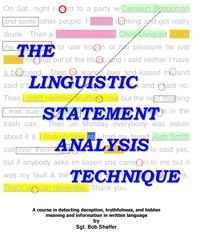 Meeting/Seminar Presentations
Featuring an LSAT presentation at your organization's conference or meeting will be entertaining and will educate your membership on how LSAT will increase their effectiveness and take their investigations to new levels of success.
Expert Statement Analysis
For those not trained in statement analysis, LSAT provides expertly prepared statement analyses, detailed conclusions and makes competent recommendation on how to develop and implement an interview strategy to elicit confessions in your cases. Read more…
Legal Deposition Review/Analysis
For attorneys, LSAT analysts can be incorporated into the examination of the statements resulting from legal depositions to reveal the truth behind the words. Read more…
Pre-Employment Screening
LSAT strategies are incorporated into all phases of hiring including application/resume review, developing interview questions, interpreting interview responses, and background investigations.

The LSAT analyst uses our validated, researched technique to search the statement much like a crime scene. They locate "language evidence" that is associated with deception. The liar uses unique wording, phrasing, content, structure and quantities of information that reveal not only if they did it but also, when, why and how they did it.

Training is not really training unless it incorporates effective adult educational techniques that maximize learning: Hearing, Seeing, Assisting, and Doing. LSAT training effectively incorporates lecture, demonstration, the clarification of questions, assisted practice, and demonstrating proficiency. But there is more to our teaching strategy.
Lot of fun
Det. Nathan Kyleberg, Arapahoe County Sheriff's Office
"Great learning environment. It was a lot of fun and I learned a lot."
Great opportunity
Det. Larry Tafoya, Albuquerque PD
"I am a homicide detective and will love to use LSAT as an alternative to simply interviewing. This is a great opportunity."
Good instructor
Officer Chad Phillipi, Billings PD
"Bob is a very good instructor. He is able to communicate the content and does a great job articulating how to apply it."